Mid-century modern fills my thoughts these days, ever since we started restoring our mcm atrium house. Although we are still a ways off from moving in, I have started doing a little Facebook marketplace shopping for vintage furniture. So far I have purchased a dining table, chairs, and a small bench for the entranceway. I cannot wait to share them here once the house is more photo ready. Although this has nothing to do with house furnishings, I have also started thinking about holiday cards. I love the ease of print on demand websites. They allow you to customize a design, see it on the product, and then print. Long gone are the days of waiting weeks to get something customized. I found a few retro holiday card designs that I love, and that also meld with where my brain is these days. Here are my favorites.
Quirky retro Christmas tree card. See price on Zazzle.
Merry vibes holiday card. See price on Minted.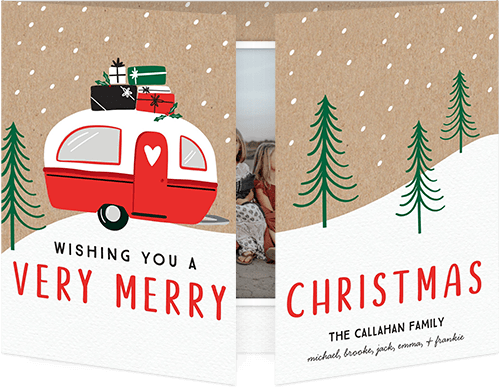 Holiday camper holiday card. See price on Shutterfly.
Retro song falalalala card. See price on Paper Culture.
Retro holiday lights card. See price on Zazzle.
Retro photo card. See price on Amazon.
Finally, for those of you who don't have the time to invest in personalized cards, here are some other cute retro designs:
Vintage gals holiday cards. See price on Amazon.
Reprinted retro Christmas cards. See price on Amazon.