If you are getting married and thinking about your guest book, I am here to make a creative suggestion. How about doing something a little more untypical than what you usually see at weddings these days? By this I mean, put down the ideas for wine cork art, Polaroid books, signed vinyl records (or surfboards or oars or globes or cheese boards or benches or . . . you get the picture) and back slowly away. No matter what branded wedding sites say, these alternative guest books are no longer unique and they have had their moment. It is time to get back to basics with a traditional wedding guest book, which you can still make it uniquely yours by having it personalized with your names and date. Ask a friend to do the honors of asking your guests to sign as they come in, and you will have a nice keepsake to browse through after the wedding is long over. Here are a few of my favorites.
I love the look of this modern forest green guest book. It is personalized with beautiful metallic foil, and the back has a customizable quote. See price on Etsy.
The cover of this keepsake guest book is made of bamboo, which the maker engraves with your details. It has a variety of paper options and finishes, so you can select the one that works best for your wedding. See price on Etsy.
This simple acrylic guestbook comes in minimalist black and white. See price on Etsy.
This exquisite velvet guest book looks like something out of another era. It is sure to become a family heirloom. It comes in a variety of colors and the maker will add your initials, if desired. Its small size makes it easy to store, and pull out from time to time when you feel like reminiscing. See price on Etsy.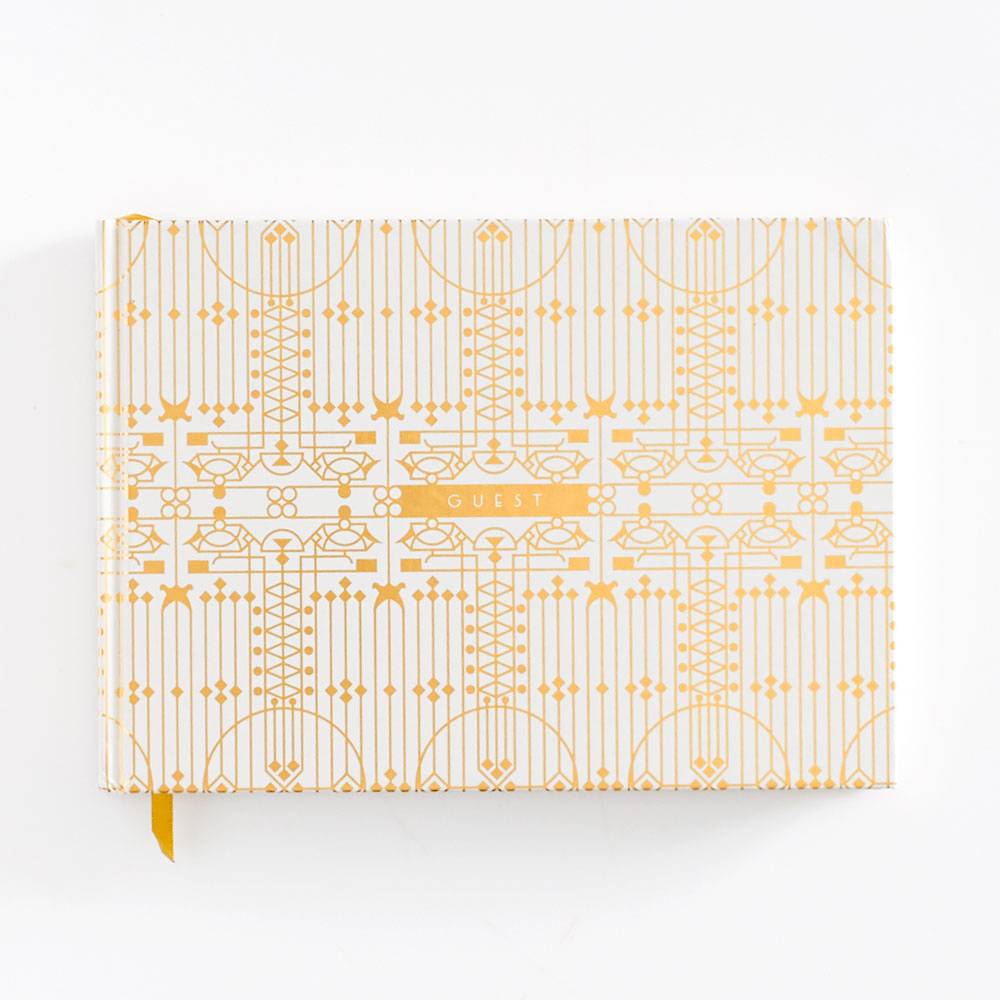 I have always had a thing for Art Deco, and I love the design of this gold printed guest book. See price on PaperSource.
This painted color block wedding guest book comes in a variety of color palettes and uses simple typefaces. See price on The Knot.
For a dual nationality couple, this guest book makes a wonderful keepsake. The maker engraves the wood cover with silhouettes of your countries. See price on Etsy.
This classic handmade leather guestbook will last you through the ages. You may have it engraved with your names. See price on Etsy.
Handmade with genuine leather, this white guest book is another classic that will look fabulous on your guest book table. See price on FineStationery.
Make your something blue this embroidered floral guest book. It is perfect for the nature-loving couple. See price on Rifle Paper Co.
This black hardcover guest book has a beautiful modern design. Use it at your wedding or in your first home together. See price on Etsy.
A pretty monogram always makes an impact. This book is printed with your initials and names. See price on Etsy.